Politics is all about grabbing everyone's eyes towards you and what is the best way to do that in this era? Obviously, Social Media. With more than 300 million active users, Twitter is one of the biggest social media platforms in India.
India is a country known for two things across the world, Bollywood and Cricket but as surprising as it sounds the most popular Twitter handle in India doesn't belong to any Bollywood celebrity or any Cricketer. Then who? The most popular Twitter Handle in India belongs to a political figure.
This information is really important and everyone should appreciate the acceptance of Political sector towards these technological interventions. From Newspaper to Radio and from outdoor advertising to Television, Politics has dominated every media channel in the past. But what they did with social media needs a strong foresight because when social media emerged in India it wasn't as important as it is right now. Now the picture is wholly different and it has become the major part of every political party's promotional campaign and one of the most efficient way to connect with the audience.
But why politics is so popular on Twitter? Do you remember the cross-road in your area? Everyone used to come together and have a discussion there and the two most popular topic over there were Cricket and Politics. Everyone used to listen to others and speak their minds. You must be thinking that why we are relating cross-road and Twitter. Because Twitter is the modern day Cross-Road where everyone can access information, listen to others and speak their mind and like the original cross-road, here also Politics is one of the most trending topics.
Now let us tell you one more interesting stat. From Top 20 Twitter handles in our country 3 belongs to Political sector. In this blog, we will take a look at those three accounts and find out who is the Ruling Politician on Twitter.
#3- Arvind Kejriwal – @ArvindKejriwal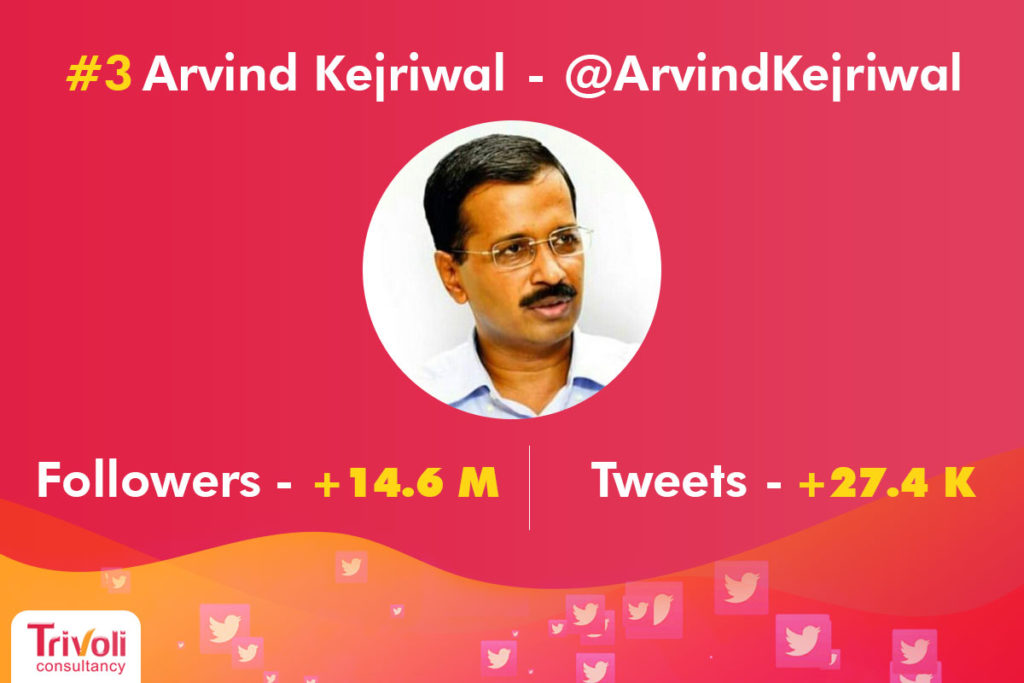 Arvind Kejriwal is one of the controversial names in Indian Politics. The current Chief Minister of Delhi and Head of Aam Aadmi Party are one of the most popular political figures in our country. His victory in the Delhi Election surprised everyone. He is undoubtedly one of the impactful and controversial leaders emerge in this decade. Let's look at his stats and his content.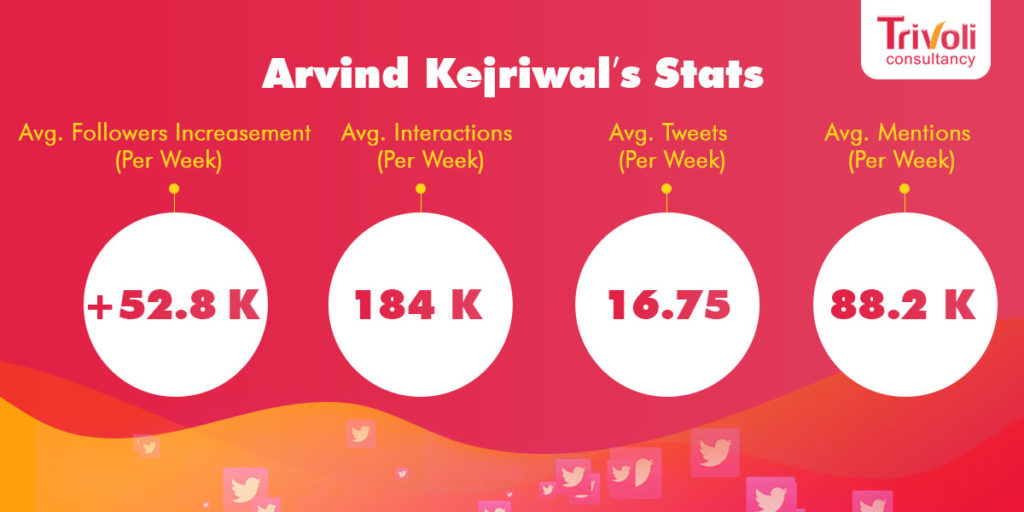 With more than 14.6+ Million Followers he takes the spot of the third most popular political figure in the country. His Twitter handle comes on 20th Rank on the overall popular list. You will find his account filled with Retweets often. Other than that, he promotes his work through Twitter. Sometimes he uses this platform to ask a difficult question to take a jab at his opponent (mostly government).
#2- PMO India- @PMOIndia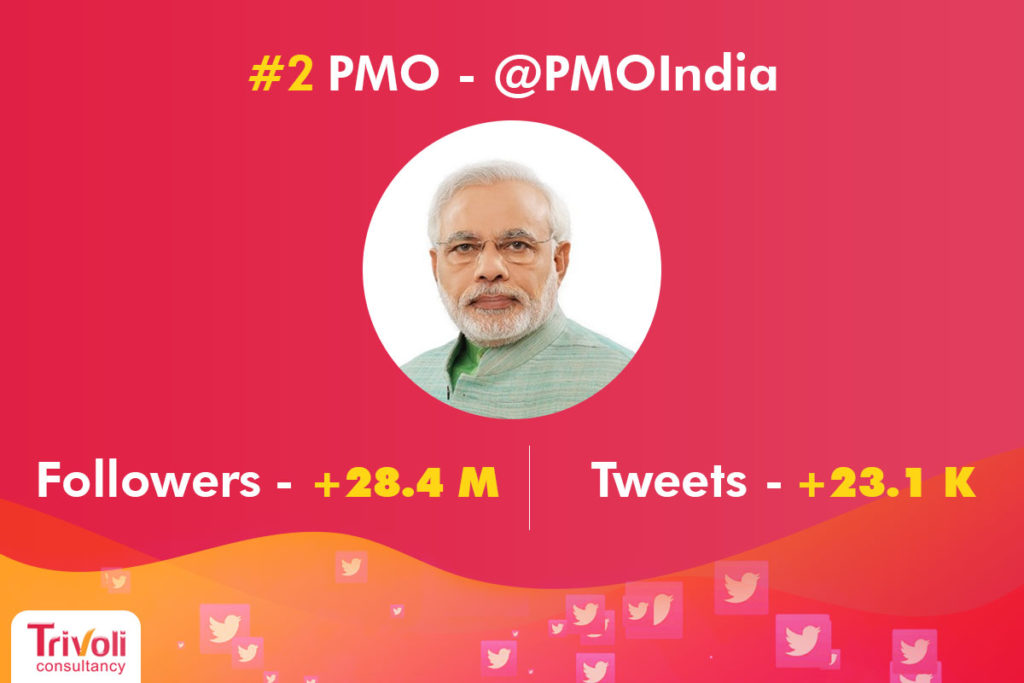 This page puts an official announcement from PM Office of India. This is the most surprising entry in this list because this page comes 8th in the list of most followed Twitter handle in India by pushing down lots of big accounts. Let's look at the stats related to this account.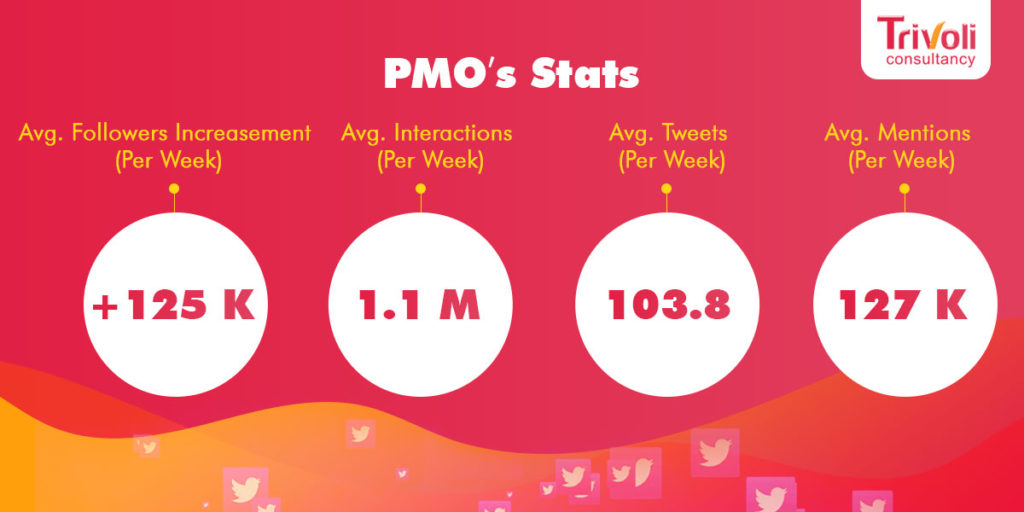 This is one of the most active political accounts in India with more than 100 tweets per week. From the above stats you can clearly see the impressive engagement number. This account comes second in our list of the most popular political figure in our country.
#1 Narendra Modi – @narendramodi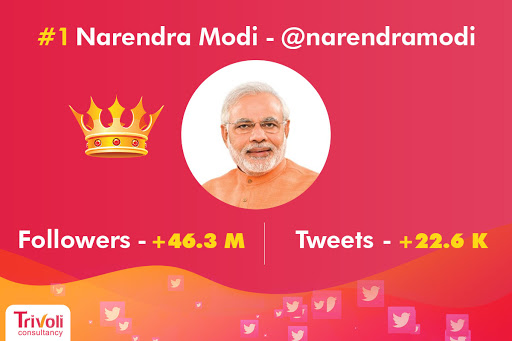 We know, you know and everyone knows who is going to top this list. Our honorable Prime Minster Narendra Modi owns the most popular Twitter handle in India. He has beaten all the cricketers and Bollywood celebrities in India to gain this spot. Before discussing the reasons let's look at his stat.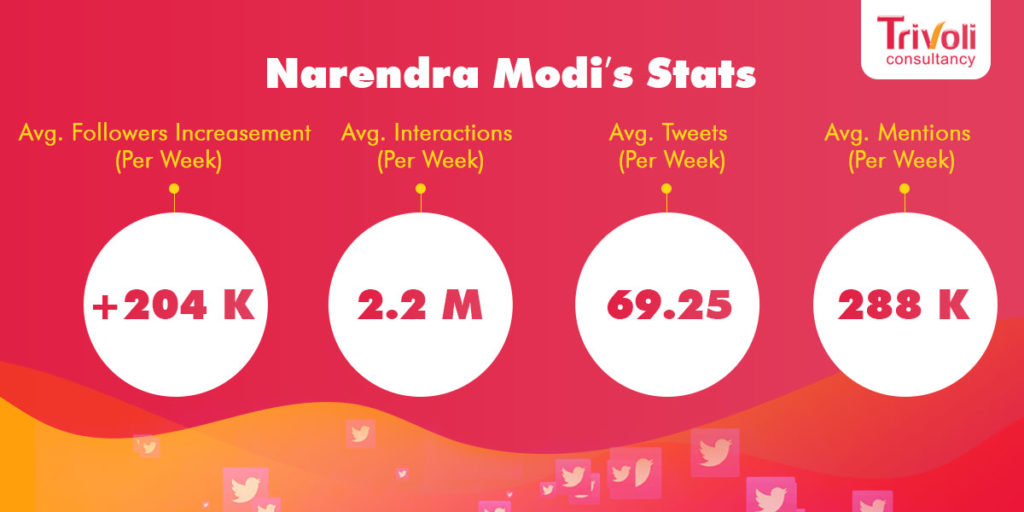 Narendra Modi is the most techno-friendly Prime Minister India ever had. He uses this Twitter Handle to promote his work and his announcement. He often uses various Twitter features like Live Video at important events. This type of initiatives helps him to connect with his audience and gain more popularity. Not only in India, but he is the third most followed political leader in the world which describes his global impact and makes him the Ruling Politician on Twitter.
These three twitter handles show us the need for adaptability in the Political Sector. If you are a politician and you want to reach the biggest heights then you need to accept these technological changes. Social Media Platforms like Twitter, Facebook, Instagram are becoming the most effective way to reach the masses. One thing you must know that these politicians don't handle their social media handles on their own. They either hire an agency or group of experts who do all the research, develop a plan and make attractive content. We Trivoli Consultancy are also one of the Best Political Consulting Firm in India. We have an expert team who utilizes all the online platforms to make your virtual identity. Social Media Management, Search Engine Optimization, Online Reputation Management are our premium services. So, if you are a politician who wants to take your political career on new heights then feel free to contact us.